Newspapers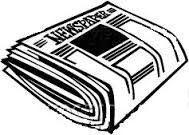 Tom Limbert
"Uncle Tom Limbert was a character! His stories have been laughed at since I was a little girl and my grandmother would tell me about him. The Limberts always walked in my memories because of her, Helen Moore. But here is one of Uncle Tommy's stories that made it to the paper. And it is the best! He was a hoot! Uncle Tom was as old as the hills when he passed. And never stopped being a ringer!"
Limbert Barn Burns

While the fire was at its height at the Habermahl home, flames shot high out of the Thos. Limbert farm at the Limbert barn three miles south of Murphysboro.

Many tons of hay were lost together with other feeds, implements and lesser equipment. Firemen were notified of the fire but were helpless to do anything with a big fire going in the city.

The Limbert fire is another of those rural fire mysteries. The loss there was not estimated, but is known to have run high. Mr. Limbert was conserving his storage of hay against an uncertain crop prospect this summer.
Source: The Daily Independent (Murphysboro, Illinois), Wed., Jun 27, 1928, page 1
Tom Limbert Marries Mrs. Julia Brewer

Granddaughter Acts as Bridesmaid for Her Grandmother in this City Sunday

Thomas Limbert, prominent Murphysboro farmer of Route No. 1 Murphysboro and Mrs. Julia Brewer of Carbondale, stole a march on their host of friends and were married in this city, at high noon Sunday at the First Baptist church parsonage, by Rev. H. T. Abbott, pastor of the Baptist church. The beautiful ring ceremony was used.

Mr. Limbert is well known in this city; and is one of Murphysboro's pioneer citizens. He is a widower and his wife a widow.

The bride was attractive in a tan georgett crepe dress trimmed in lace and wore black satin slippers and carried a corsage of creme snap dragons. The bride is well known and highly respected in Carbondale and is a member of the First Methodist Church.

Mrs. Limbert's grand-daughter, Mrs. Kenneth Hagler, acted as her grandmother's bridesmaid and was very charming in a rose beaded georgette dress, with accessories to harmonize. Mrs. Hagler carried pink rose buds. Mr. Hagler served as groomsman.

Immediately following the wedding ceremony, the bridal party motored to Carbondale, where a wedding dinner was served.

The newlyweds will make their home on the Limbert farm south of this city.
Source: The Daily Independent (Murphysboro, Illinois), Tue., Jan 29, 1929, Page 3
Tom Limber, who is stepping in a sprightly manner up through his middle eighties, was down town Wednesday without an overcoat. He said he had not owned an overcoat until he passed his half-century mark, because he did not want one.

Mr. Limbert in his earlier years was an expert ice skater. We asked him if he could recall the coldest winter in these parts years ago. He said he could not recall the calendar year, but that he helped his father haul 12-inch ice cut from Big Muddy river just south of Murphysboro for the ancient brewer who later sold his plant to Rudolph Stecher.

"Our route was up the hill in what is now South Seventeenth St." he said. "We had a small mule team. It was far below zero and so cold that you could hear the hubs of our little wagon popping and the 'squeal' of the snow all over town under the steel tires."
__

"Uncle Tom" said, Murphysboro ended on the west at a rail fence along the length of what is now Fifteenth St. He said two weeks after the 12-inch ice was cut, they cut 14-inch ice in the same spot. (Mayor Clarence Hart said, Wednesday that Stecher Brewing Co. cut 12-inch ice on the old coke over pond north of Murphysboro when he was a small boy.)

"I remember the first brewery off Rover St." LImber said. "For a time in its beginning it did not have a wagon to deliver its beer. The Murphysboro saloons were clustered at that time in the Laclede Hotel and the McGuire (South Ninth St.) hill area.

"The brewery workers used to carry kegs of beer on their backs to thses saloons. I've seen them do it, many is the time."
__

Some citizens about town will remember the day when it seemed that all of the fish in Big Muddy river went on a bender. That was in the early days of Stecher's brewery. The story goes that one German worker got angry at another and threw several bars of lye soap into casks of fermenting beer.

Well, the only thing left to do was to dump the beer. The beer had no where else to go than into Big Muddy river. THe fish had nothing to do but to tank up on the beer. As it happened in a time of low water, the drunken fish piled up in the shallows below the M & O railway bridge. People caught them with pitchforks and their hands. Boys made gigs out of sticks with nails in the ends of them and caught hundreds of pounds of fish. Old Daddy Turner (who lived where the Crawshaw Funeral Home is now) appeared on the bank with his old horse and wagon and loaded the wagon full and sold the fish in Murphysboro. Finally the fish sobered up and disappeared.
The Daily Independent (Murphysboro, Illinois), Thu., Feb 27, 1947, Page 7
Contributed 18 Feb 2018 by Melissa McCord
Nancy Bowles, Ancestor of Martha Schwegman
The Southern Illinoisan (Carbondale, Illinois) published an article 'Weaving the Story Together' (with photo) about escaping the Trail of Tears by hiding in a corn field. It appeared in the Monday, Apr 20, 2009, issue, pages 2 and 5. It is copyright protected, so we cannot provide a transcription here. Nonetheless, this serves as an example of treasures which can be found in newspapers.
"… We have searched everywhere to validate the claim that Nancy Lucifera Boles Caveness was a Native American. ... grandmother bought her way into the Cherokee Nation saying she was a descendant of Chief Bowles who traveled through Missouri and went to Texas only for the whole tribe to be slaughtered there. I could not find any connection between Chief Boles and Swancy Boles nor that the Boles/Bowles were connected until this article. It is pretty promising when you hear the same story from people who do not know each other."
Contributed 18 Feb 2018 by Melissa McCord